When As the World Turns initially outed the character of Luke (Van Hansis) gay activists were excited. This story line provided the potential to prominent feature a homosexual on a popular soap opera.
Since then, however, many viewers have been dismayed at how the show has seemingly shied away from furthering the relationship between Luke and Noah (aka "Nuke"). The pair has only been featured in 12 of 53 episodes between November 1 and January 18.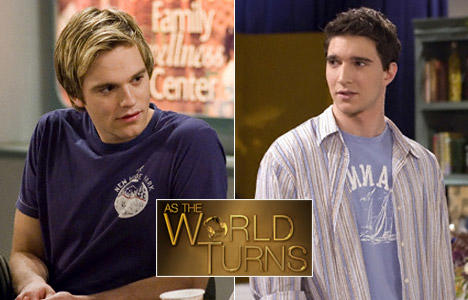 When asked via email if the show was treating Luke and Noah fairly, Brian T. Cahill, Sr - V.P., Managing Director for TeleVest Daytime Programs, the person responsible for the overall production of As the World Turns and Guiding Light - replied:
"We are always pleased when our stories strike a chord with the audience and the Luke and Noah story has certainly done that. We appreciate all the feedback we've gotten from fans of the show, and we recognize the popularity of this couple.
"As soap opera fans know, daytime is a cyclical medium, where storylines vary in screen time. As with all the characters on the show, Luke and Noah are sometimes featured more heavily than other times. For instance, in July, August and September, they were on-air quite a bit.
Fans will be seeing more of Luke and Noah in the coming weeks and months, as their story gets more air time."
Does this satisfy your complains, As the World Turns fans? Reply now in our FORUMS.
Matt Richenthal is the Editor in Chief of TV Fanatic. Follow him on Twitter and on Google+.