With his reality dating show, That's Amore, set to premiere on Sunday night, Domenico Nesci is speaking out about his search for love.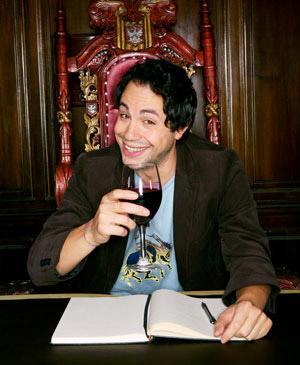 He recently sat down with our pals at Buddy TV:
Having seen Tila Tequila and how she approached having all of these people try to win her over, did you learn anything from being around her that you're sort of mimicking in how you act as the star?
I guess I saw how the show was, but I got a totally different personality than Tila, so I approach the show in a different way. I like to approach things in a funny way, no matter what it is. Even if it's something serious, I try to laugh or something in a sarcastic way sometimes, or in a funny way.
Being on the Tila Tequila show and watching her I got an idea of how it works, but I want to put my talent and personality into what is going to happen.

Are a lot of the competitions girls can win on That's Amore! sort of different and more fun?
They're much more fun and much more Italian.
Can you give us an example of some of the dates or the competitions that you're going to be putting these girls through?
Yes, first competition is a huge pool of spaghetti meatballs. Probably 2,000 dishes of spaghetti meatballs, and the girls have to do some stuff with the meatballs in their mouth. Then I ended in the pool, and I cannot tell you how, but I've never been in a pool full of spaghetti meatballs.
The feeling is really nice though. It's no good when you find meatballs in your underwear. It was in my underwear and I couldn't realize, because it was a little cold, which ones were the meatballs and what was going on also the same…I was confused between the meatballs and my real balls.
Read the full interview with Nesci now.
Matt Richenthal is the Editor in Chief of TV Fanatic. Follow him on Twitter and on Google+.