As TV Guide puts it: Get ready for TV's newest reality show: 55-year-old Guiding Light!
On February 29, the long-running drama will abandon the set-busting, all-encompassing way of making soap operas in exchange for a radical, extraordinarily authetic approach that has much of the show shot on location in the small town of Peapack, New Jersey.
For example, check out this Guiding Light spoiler: The first episode with the new look finds heiress Lizzie Spaulding (Marcy Rylan) being dumped in the middle of the woods by her ex-lover Jonathan (Tom Pelphrey). She'll be rescued — soaked and frozen — by her current flame, Bill (Daniel Cosgrove).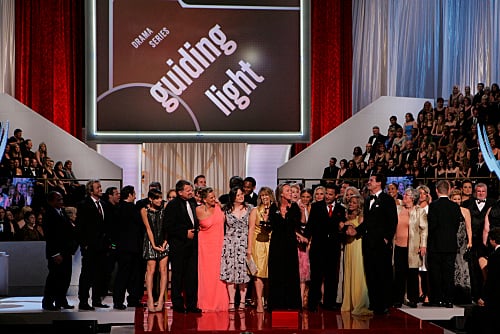 Guiding Light's soundstage in Manhattan also has received an overhaul. Three-walled sets have bee vanquished, those that have used since the 1950s. Now, each interior locale has four walls and a ceiling, requiring that all scenes be shot by a fleet-footed crew with minicams.
"We're bringing the viewers right into the experience in a very intimate way," says executive producer Ellen Wheeler.
Wheeler says CBS wants low-rated Guiding Light to remain on the air: "This is not a desperate survival move," she insists. "This is a creative, financially efficient way to move soap operas into the future. Guiding Light has always led the way."
Matt Richenthal is the Editor in Chief of TV Fanatic. Follow him on Twitter and on Google+.