Paulina Porizkova Speaks on America's Next Top Model Gig
Matt Richenthal at .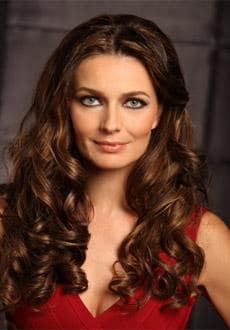 Paulina Porizkova, a new judge on America's Next Top Model, recently spoke with our friends at Buddy TV. Here are excerpts from the interview:
Did you feel any pressure stepping in for Twiggy? She's so popular with the fans of the show.
Really? See, I had no idea. If you had told me that before I probably would have had a lot more pressure. No, I didn't pay any attention. I watch the show because I think it's great fun, and I really liked it. But no, I didn't think anything of it actually.
If anything I thought, "God, she's such a lady, she's such a nice, nice woman." She's ridiculously nice. I thought, you know, sometimes I wanted her to speak up a little more.
I heard you're a person who voices her opinions and says how she feels. Do you do that in judges' panel on Top Model?
Well, why do you think they hired me? Yeah, I think they decided maybe Top Model had gotten too nice I guess, so they turned to the mega bitch -- me. I say that in jest. But, you know, painfully honest to the point of tactlessness I guess.
Read the full interview now.
Matt Richenthal is the Editor in Chief of TV Fanatic. Follow him on Twitter and on Google+.