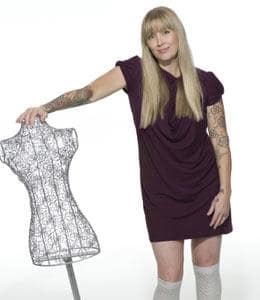 Sweet P may not have made it to the finals of this year's
Project Runway
, but that doesn't mean she's entirely unqualified to judge the fashion choices of celebrities.
The reality TV star - and hopeful designer - blogged about last night's Oscars for MTV. Here's some of what she had to say:
- 6:15PM: Heidi Klum in a great-fitting RED Galliano gown. of course she is stunning but I do not like the big collar thing it looks as if Galliano was inspired by Christian & Chris' Avante Garde look. A bit too Cruella de Ville. She still looks gorgeous though. I do like that her dress will be auctioned off and benefit a charity.
- 6:30PM: Jason Bateman and George Clooney. I love both of theses men. So so handsome. I think they are wearing the same out fit. A black suit Or is this a Tux. ( I am not a men's Fashion Expert. ) White shirt and back bow-tie. They both have the perfect accessory. A clean-shaven handsome face.
6:45PM: Amy Ryan. Simple off-shoulder navy dress. Fit is perfect and the one shoulder is very NOW. Simply Elegant.
Read Sweet P's full blog now.
Matt Richenthal is the Editor in Chief of TV Fanatic. Follow him on Twitter and on Google+.