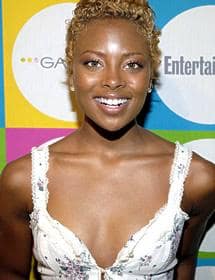 When she won cycle three of America's Next Top Model, she went by the name of Eva Pigford.
Now known as Eva Marcelle, what else has changed for this beauty?
"My life has changed tremendously since winning America's Next Top Model, I went from a college student to the cover of a makeup line," she said. "But when I have to do my own make-up, I just even out my complexion with Black Opal and put on mascara. That's about it."
Moreover, despite the pressures of the industry, Eva tries to remain true to herself and her body.
"I'm not a fitness nut!" she said. "I don't go to the gym. I just try to eat well and I keep active."
Adding that she loves Mexican good, the former America's Next Top Model's winner also said she enjoys low-key pleasures, especially those based in the great outdoors:
"I am a stay at home kind of girl. I enjoy cooking and entertaining for my family and friends. I've just taken up golf and I really enjoy playing."
But don't think Marcelle has abandoned her first love, which she still cites as fashion: "I love clothes and shoes. My fashion taste is really vintage. I love old clothes - things from the 30s that were flattering and sexy. Eventually I would like to establish my own clothing line."
Matt Richenthal is the Editor in Chief of TV Fanatic. Follow him on Twitter and on Google+.