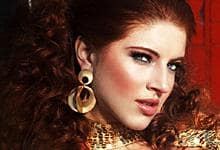 Aimee Wright was recently voted off
America's Next Top Model
. Which is too bad for male fans because the beauty told
TV Guide
that she's gladly have bared it all to win the title...
TVGuide.com: How shocked were you to be eliminated?
Aimee Wright: I was definitely surprised. I didn't think my picture was bad enough to get me eliminated! Possibly the bottom two, but I didn't think I was going home!
TVGuide.com: You didn't want to be naked in front of the girls, but you had to know that you'd have to do the annual nude shoot.
Aimee: I'm comfortable [being nude] as a model. But it is a reality TV show â€" that part made me a little bit uncomfortable. I look at it differently. On the show it's, "Here I am to show off my body." With modeling it's, "Here I am to sell a product." I see it as a form of art.
TVGuide.com: Is there a part of you that's relieved to be out of the house?
Aimee: Oh, yeah. It was very, very stressful, and I was actually losing sleep over what the challenges might be or what the judges were going to say. I was tossing and turning in bed forever!
TVGuide.com: What was it like being in the middle of the catfights in the house? It just seemed like pandemonium!
Aimee: There are always going to be tiffs when you have girls coming together from all over the country and from so many different upbringings. It's easy to get into arguments. I tried to stay out of the drama and the controversy.
Read the full interview with Wright now.
Matt Richenthal is the Editor in Chief of TV Fanatic. Follow him on Twitter and on Google+.