Former Laguna Beach star Kristin Cavallari is done with reality TV. Which will not stop us from talking about her here at the Scoop, not to worry.
Still, Kristin says the small screen days are totally behind her, so don't expect to see any cameos from her on The Hills ... or 22 and Taken.
Cavallari told Entertainment Weekly in a recent interview:
"I have been asked to come back by MTV a million times to be on The Hills or Laguna Beach or to do a different reality show, but I am not interested. I am doing what I want to do so I don't feel pressure to go back. I keep getting jobs. I feel like been there, done that. I did Laguna Beach for two years and had the best time. I feel like I need stuff that challenges me and another reality show won't do that."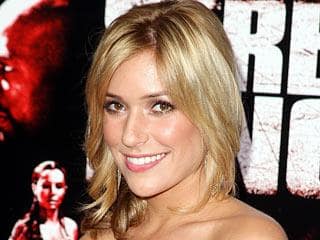 So what's Kristin Cavallari been up to instead?
She starred in a music video for Gavin DeGraw, best known for crooning the One Tree Hill theme song. She also shot a short film that Entourage's Kevin Connolly directed that... well, we'll let her describe it herself.
"[It's made up of] nine different short films," KC said. "The whole thing is called Uncomfortable Moments. My short is called Dry Humping. It is about two high school kids, my boyfriend and I, who are dry humping when his dad comes home and catches us in the act. They are all really funny short, goofy films."
Well, okay then!
Kristin Cavallari also is set to appear in a beach volleyball movie opposite David Charvet called Green Flash this summer. She describes that as "definitely not a hard job to go to every day. And I am about to go to Canada to shoot a movie. I can't talk about that yet, though. I'm having a good time!"
Matt Richenthal is the Editor in Chief of TV Fanatic. Follow him on Twitter and on Google+.