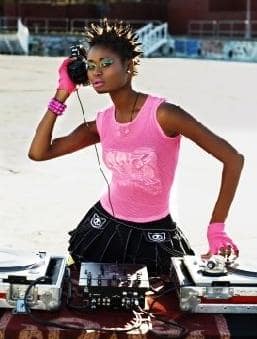 Stacy-Ann Fequiere was voted off of
America's Next Top Model
last week. But the wannabe beauty isn't going quietly.
She recently spoke with TV Guide about the elimination, referring to it as "unfair." What else did she have to say? Here are a few highlights:
TVGuide.com: How did it feel to be beaten by "the invisible woman," Fatima?
Stacy-Ann Fequiere: I was pissed and devastated at the same time. It was freezing cold, so I was really struggling, and Fatima didn't have to do it! Since she didn't have her paperwork, of course we had been sympathizing with her. But then she had to take time out to do her own thing, and that showed a little
TVGuide.com: Did you think it would go the other way when Tyra Banks was being so hard on Fatima during the judging session?
Stacy-Ann: No. I kinda knew how it was going to go. Even though they were chastising her for not having paperwork, once they said they were going to judge her based on her body of work, I knew. That's why I started crying before they'd even announced which of us was staying.
TVGuide.com: Do you think the judges thought of you as kind of a joke after you hummed your own musical accompaniment to your stripper dance?
Stacy-Ann: Yeah. They kept bringing that up, like it was my theme song! I think they really liked my personality, because that was the reason I got into the house. But when it comes to modeling, I guess I didn't have that strong, dramatic element that they were looking for. I was too happy.
Matt Richenthal is the Editor in Chief of TV Fanatic. Follow him on Twitter and on Google+.