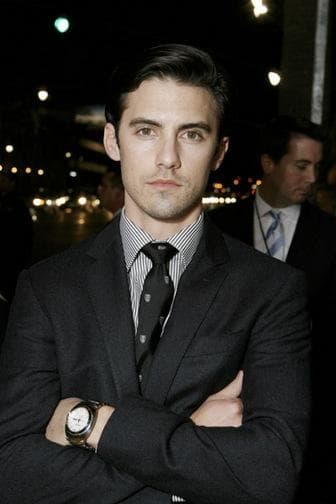 Milo Ventimiglia
appeared on
Live with Regis and Kelly!
this morning. During the broadcast, the man that makes female viewers soon as Peter Petrelli admitted that acting may have been his first love... but there were others.
"I had a couple options," Milo said."One, I wanted to be an actor. Two, I wanted to be a doctor. And third, I wanted to be a fighter pilot."
Despite the fulfillment of his initial dream, Ventimiglia - whose new movie Pathology opens on April 18 - got to live out another one during the recent hiatus from Heroes, he said:
"During the strike, when Hollywood was shut down, [I went up in a fighter plane]. And I also spent some time with the Air Force Reserves. It was amazing. It was one of the coolest things I'd ever done to see what these pilots put themselves through, the training, what the planes are capable of."
When co-host Kelly Ripa asked if he felt nauseous up in the fighter plane, Milo didn't pretend to be a tough guy:
"Yeah, I got sick. It's hard not to. There's actually a photograph of me before I got into the plane: hair's polished, I'm looking good, I'm standing up tall. And then there's one of me after I finished the flight and eh, a little crooked."
Ventimiglia also confirmed that the new season of Heroes begins to shoot on May 1. Yes!
Matt Richenthal is the Editor in Chief of TV Fanatic. Follow him on Twitter and on Google+.