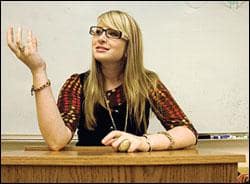 The Paper
premieres on MTV tonight.
According to respected industry publication, Variety, the network squanders a golden opportunity to actually illustrate what newspapers do; instead using Cypress Bay High's school paper, The Circuit, as the backdrop for an over-produced reality-based teen soap.
Here's what else the trade's review had to say about The Paper:
The premiere is less a window into the lives of aspiring journalists than Election with real kids, a handful of which vie for the editor-in-chief title. Tears ensue, but not much else that resembles a newspaper, except of course that the featured copy editor is an irritating nerd. (Wow, did that get by the desk?)
Amanda (pictured), the bespectacled said copy editor, is the arbitrarily designated narrator of the proceedings at this Florida school, though in doing so she says stilted things such as: "Procrastination is a foe that I have not met yet."
If that line wasn't written for her, she might have wanted to delay coming up with it.
Read the full review now.
Matt Richenthal is the Editor in Chief of TV Fanatic. Follow him on Twitter and on Google+.