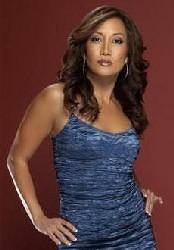 Our good friends at BuddyTV recently chatted with
Dancing with the Stars
judge Carrie Ann Inaba. Here's what that show's version of Paula Abdul had to say:
Were you pleased with the outcome of the season?
Yes. I was. You know, I'm always pleased with how things turn out on that show because I think it's such a great experience to have the judges vote as well as the audience vote. And I'm never disappointed, and this year, once again, I was not disappointed. And I was really happy that Kristi [Yamaguchi] won.

Yeah, Kristi and Mark [Ballas], just right out of the gate, they were really great. At least on TV, it looked like they were just so much better than the competition. What was it like live?
I think that throughout the competition, it was pretty close between Jason [Taylor], Cristian [de la Fuente] and maybe Mario, and Kristi. Those were the top four couples.
And then, the last night of competition, when they did the head-to-head cha cha, where they all danced part of one routine to the cha cha, you really got to see that Kristi was kind of head and shoulders above the rest, you know? She made it very obvious that she was the one who deserved to win the competition.
Read the full interview with Inaba now.
Matt Richenthal is the Editor in Chief of TV Fanatic. Follow him on Twitter and on Google+.