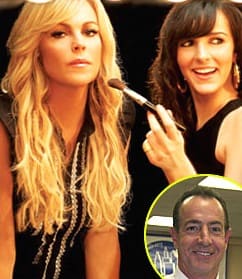 Trust us,
Lindsay Lohan
didn't become screwed up solely due to Dina Lohan's lack of parenting skills (which were on full display during last night's series premiere of
Living Lohan
.)
Ex-convict Michael Lohan played a significant role in the misguided values of his family, as well.
Here's an excerpt of a blog entry Michael wrote for OK! magazine following last night's episode of Living Lohan:
"For now, let's just say I'm still trying to figure out if this show is about managing Ali's career and being a "real" mother, or reading tabloids... If this show is about the being a mother and a manager, the most important thing is to set a good example by instilling positive values, and doing what's right for the kid's sake. Not for our own!"
Amen, Michael! Not for your own. Just bear this in mind:
That message may not come across to well when you write it in a celebrity gossip tabloid blog that's obviously paying you for your thoughts. Moron.
Matt Richenthal is the Editor in Chief of TV Fanatic. Follow him on Twitter and on Google+.