David Cook asking out former American Idol finalist Kimberly Caldwell was the most romantic news on our site for about five minutes.
Now, you gotta read about what went down on last night's Flavor of Love reunion show! Try to follow along...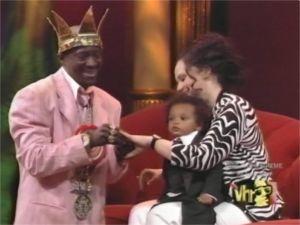 Following the conclusion of this season, the woman who supposedly won and claimed Flavor Flav's heart for herself, Thing 2, hadn't been able to date her man for six months. They had to keep the victor and secret, of course.
So, after reuniting with Thing 2 on the reunion show, you'd have thought Flav and his love would tell everyone they were set to live happily ever after, right? Wrong.
"Out of all my shows that I've done, this moment right here is the hardest for me. This is my third season of Flavor Of Love and everything, you know what I mean, and I went through sixty-five women," Flavor Flav said, going on to explain that since the finale he had been spending a lot of time with his youngest son and his youngest son's mother.
"The best gift that a man can ever give a child is to love his mother, and you know, I do love his mom," Flavor Flav said, confusing the audience and letting Thing 2 to know that he was actually meant to be with someone else.
Therefore, the rapper actually called his youngest son (named Karma, of course) and his mother Liz to the stage... and proposed! He romantically said:
"By me doing these shows, everything that I've been looking for in a woman, it's been right here within you all the time. Let me ask you this, will you marry me?"
Liz's response?
"Finally, finally, yes, I will."
So, in conclusion, Flavor of Love 3 ended with the star being engaged to someone who wasn't even on the show. Aren't you glad you spent all that time watching?
Matt Richenthal is the Editor in Chief of TV Fanatic. Follow him on Twitter and on Google+.