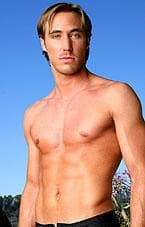 The adorable Kyle Lowder was recently interviewed by TV Guide Canada. Here are highlights from
the interview
:
TVGuide.ca: You must be thrilled that your wife, Arianne Zucker [Nicole] is back on Days of Our Lives and kicking some major diva ass!
Kyle Lowder: You know Days was her first job. She was a successful model before, and that's what the soap was looking for when they hired her. After she left Days, she wanted to go back to school and improve her craft — not that she was bad before, but she wanted to use her free time to hone her craft, instead of wasting it. And now, look at her — I love what she's doing as Nicole.
TVG: You and Arianne reconciled after a brief separation; congratulations! At last year's Daytime Emmy Awards, I hung out with both of you and I never suspected you guys were having problems. A few weeks later, you announced your separation. I was a little shocked, to be honest and thought: Wow, they're better actors than I gave them credit for! [laughs]
KL: [Laughs] I know — the separation was all about me. We were never not in love. We never put on a show unlike some other A-list movie stars who will remain nameless. I was going through some major personal issues that disconnected me from reality.
Our time apart was about me finding myself. And yes, it takes two to tango, but in this case, I was the one with the issues to resolve, and luckily, she wanted to put the pieces of our relationship back together. She was there for me — and that needs to be said.
Matt Richenthal is the Editor in Chief of TV Fanatic. Follow him on Twitter and on Google+.