Ding! Ding! The Real Housewives of Orange County vs. The Real Housewives of New York City

Matt Richenthal at . Comments
East Coast socialites battled West Coast socialites backstage during the Wednesday taping of the Bravo A-List Awards. The casts of The Real Housewives of Orange County and New York City almost came to blows over the script the awful, spoiled women were supposed to read during the awards ceremony.
According to New York cast member Bethenny Frankel, the argument began when Orange Country Housewife Jeana Tomasina didn't like the script that was given to the Housewives to read from on stage.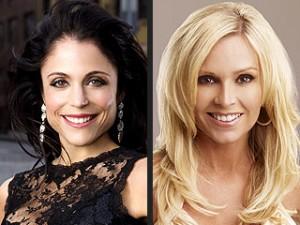 "They [The O.C. Housewives] said in our material that my apartment is a two-by-four, and it's actually a one-by-two, and so I can take it, I don't care," Frankel told People Magazine. "But they're offended that I'm saying something about them living 65 miles from the beach.
Jeana said, 'I don't think that's funny.'"
From that odd exchange, relations between the ladies apparently got even more chilly. Read about the catfight now.
Matt Richenthal is the Editor in Chief of TV Fanatic. Follow him on Twitter and on Google+.