Meagan Cooper is more than a Hooters waitress and contestant on the upcoming reality show, I Survived a Japanese Game Show.
She also claims she's the woman responsible for breaking up former Dancing with the Stars couple Mario Lopez and Karina Smirnoff, telling E! that she and Lopez carried on a secret romance for almost a year while he dated Smirnoff.
"He told me he lived alone," said Cooper, "but I opened up [his] closet and saw a row of women's shoes and said, 'Either you are a cross-dresser or a woman is living here.'"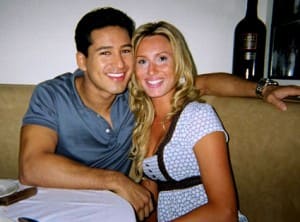 Meagan Cooper says she had an affair with Mario Lopez during his relationship with Karina Smirnoff.
Cooper continued: "We're not friends anymore. He's really pissed. He's like, 'You're not supposed to talk to [press],' but when you make me look like a total whore, I'm going to tell somebody about it."
We're trying not to take sides here, but no one had heard of Meagan Cooper until she came out with this story. Hard to see how Lopez made her look like anything.
"He's a really great guy, don't get me wrong. He's a really nice person. He has a lot of great qualities, but he was not the most faithful person in the world," Cooper said, possibly telling the truth, but definitely desiring fame.
Matt Richenthal is the Editor in Chief of TV Fanatic. Follow him on Twitter and on Google+.