There are never enough reality TV shows.
New ideas are always being developed by networks' top minds and brought to TV, to the delight of millions of Americans from coast to coast.
We've got plenty of favorites as is, but there's always room for one more. Or five or 10. In April, we brought you some new ideas. Now, here's a list of even more reality shows we'd like to see in the near future ...
I Hate Money: Toastee Toof, Deelishes, Megan Hauserman and other reality TV fame whores only THINK they're competing for $5 million. They are really being shipped off to work for free, repairing irrigation systems in earthquake-ravaged China. How will they handle doing something worthwhile?! We'll find out!

Mister Meester: Tired of the Hollywood dating scene and ready to settle down and have children, the Gossip Girl vixen chooses from 25 would-be suitors to determine who has what it takes to become Mr. Leighton Meester.
13346: Young, hot students in Upstate New York run amok.
America Lacks Talent: A review of all other reality shows on TV.
Bell's Kitchen: Looking for a change in careers, Heroes star Kristen Bell abandons acting and opens a trendy eatery in NYC's Meatpacking District.
The Bachelor: Revenge!: Spurned women show up at the workplaces of hunky Bachelor stars like Brad Womack (below) who rejected them and cause a scene.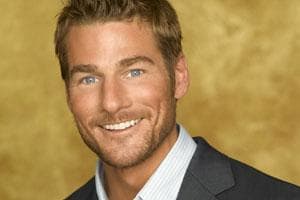 Gag Order: An army of publicists, agents family and friends alike battle to stop Grey's Anatomy star Katherine Heigl from opening her mouth.
25 and Anorexic: Actress Kate Bosworth juggles auditions for movie roles and dates with James Rousseau - all without any sort of sustenance!
Celebrity Probation Officer: Following various Los Angeles County Department of Corrections personnel as they attempt to get oft-arrested celebs like Michelle Rodriguez, Jason Wahler and others to clean up their acts.
The Real Housewives of Toledo: A riveting glimpse at the lives of seven Midwestern, working-class housewives who struggle to balance religion, jobs and family, while shouldering the burden of skyrocketing energy prices.
Obamanation: An in-depth examination of just how frickin' cool presidential candidate Barack Obama is, as told by his many fans.
Picking on PETA: Interns from Reality TV Scoop turn the tables on an animal rights group by bombarding them with stupid emails, staging lame protests outside their offices, hounding them at dinner and much more.
Farmar Wants a Wife: Following the life of second-year Lakers guard Jordan Farmar (below) as he searches for love in the City of Angels.
Matt Richenthal is the Editor in Chief of TV Fanatic. Follow him on Twitter and on Google+.