Because many households were tuned in to see Barack Obama become the first Africa-American nominee for President (at least we hope they were), allow us to recap the two major reality TV shows from last night...
A Shot at Love with Tila Tequila: Bionic Bo had his stitches removed, so he's free of the chin bandage. The Message in the Bottle is about what the contestants are willing to do for Tila Tequila. They roll up to a tattoo parlor, and Brittany is excited by the prospect of getting another one... -- BuddyTV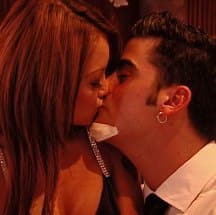 Hell's Kitchen: Corey and Christina want to make Jen's life a living hell, now that she's back on the red team (Matt is back on the blue team). It doesn't really matter, though, because Chef Ramsay merges the two teams into one (black and white uniforms!) on top of the London West Hollywood... -- TV Squad
Matt Richenthal is the Editor in Chief of TV Fanatic. Follow him on Twitter and on Google+.