Offed fashionista Emily Brandle is still bitter about her surprise Project Runway elimination on this week's episode, and is sounding off about it in a new interview with EW.com ...
Q: What'd you think about the way that they portrayed you and your loss?
Emily Brandle: Well, first of all, I was shocked that I got kicked off! What were they thinking?
Q: Was it hard to watch Project Runway at all?
Emily Brandle: Yeah, absolutely. Surreal. It was very strange to see it and know that the whole world will see it. It was a different experience, kind of being there and being in the moment for the whole experience. You're like, Right, the world is going to see this.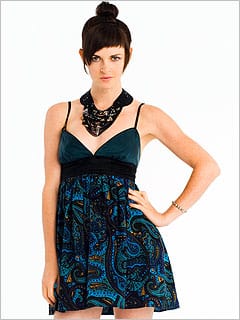 Q: Let's break it down a bit. What happened?
Emily Brandle: What happened is that I got the boot. I should not have gone! You know, fashion is subjective. For whatever reason, the judges and/or producers thought it was my time to go. I wouldn't change my dress. You know, I stand by it. The shoulda-woulda-couldas is not a game that I play, so it's done, you know? I make a beautiful collection, Smoke & Mirrors. My best friend and business partner and I have been doing it for a year and a half, and you know, that's what it's really about, the real work.
Follow the link to keep reading Emily Brandle's exit interview ...
Matt Richenthal is the Editor in Chief of TV Fanatic. Follow him on Twitter and on Google+.