Wow.
This is easily the most perplexing, shocking Heroes spoiler for season three that we've posted yet. It comes courtesy of a reliable source, Kristin of E!, so it's safe to assume the following: Sylar has a son... named Noah!
Here's what Kristin writes:
In the future, Sylar has a four-year-old named Noah (which has to be in memory or honor of our Noah Bennet, aka H.R.G.), and according to Zachary Quinto, Sylar's baby mama is "silver-tongued and alive. I don't know what else to say. I can't give that away—it's too good."
I'm voting for Kristen Bell's Elle, who could certainly be characterized as silver-tongued, although perhaps I'm just thinking of Veronica Mars.
That's certainly a lot to process. Any theories, readers?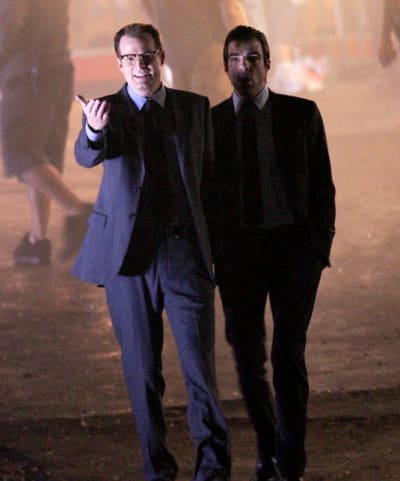 This is a photo from season three, showing HRG and Sylar getting along surprisingly well. According to the spoiler above, there's a lot more to this relationship than we ever imagined.
Matt Richenthal is the Editor in Chief of TV Fanatic. Follow him on Twitter and on Google+.