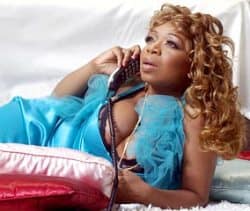 New York might be going to Hollywood tonight for the season premiere of
New York Goes to Hollywood
- but star
Tiffany Pollard
is first going to praise VH1, network that has given her a chane to flaunt her breasts and combative personality on television.
"The network is so supportive of me," Pollard told The Boston Herald. "So they're like, 'If you are feeling like you're ready to act, we want to give you a platform. We want to help you.' Once they figured out that I was serious about it, they totally helped me do it. They went all out for their girl."
As for that personality? The one prone to vulgarity and screaming matches?
"I am actually a really nice person," she said. "A lot of times when I meet people for the first time, I think they are taken back by how warm my energy actually is. Because they watch the shows and they just figure me to be this nasty, angry, negative person.
But what it was, is that I had a lot of things coming at me. I had girls to compete with and then I had guys in my house who were there for the wrong reasons. You have to know I got that way because my buttons were pushed. If I'm not on the battlefield fighting any battles, I'm going to put my swords away, so I'm good."
So, does New York go to Hollywood and become an A-list star? Pollard isn't saying for certain.
"No matter what happens, I will always have time to do another reality show," she said. "Reality is my start. I'll always have a deep love for it."
Matt Richenthal is the Editor in Chief of TV Fanatic. Follow him on Twitter and on Google+.