Sylar: My name is Sylar. And you are not my mother.
Angela: But I am, dear. I am.
After two hours of head-spinning twists and turns, Heroes concluded last night with the revelation that Sylar was Angela Petrelli's third son. Wait... what?!?
Indeed, actress Cristine Rose told TV Guide that fans will be treated to yet another step in this story line in Episode 3.
"It really has a double punch," she said. "The revelation that he's my son is just the beginning."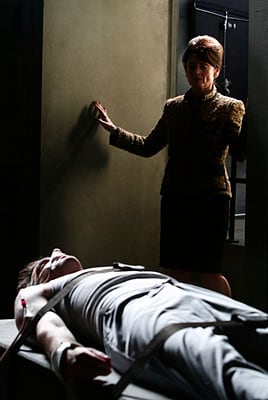 Does that mean viewers ought to expect Sylar to pick out flowers and Mother's Day cards soon? We wish! But...
"That's really not why I need him or want him," Rose said. "In the last two seasons, I dealt with whether I loved my children or whether I bore them out of a need for power and used them as weapons. I think of Sylar as my weapon of mass destruction. Eventually anyway."
Matt Richenthal is the Editor in Chief of TV Fanatic. Follow him on Twitter and on Google+.