What should you set your TiVo for tonight? And what should you say Ti-NO to?
Our staff combs through this evening's television listings and helps readers set their viewing schedules:
8 p.m. Financial woes are a problem on Ugly Betty (ABC); A new installment of Survivor: Gabon (CBS).
9:00 p.m. Denny is, seriously, still a ghost on Grey's Anatomy (ABC); Angela and Andy plan their wedding on The Office (NBC)?
9:30 p.m. It's high school reunion time for Liz Lemon on 30 Rock (NBC).
10 p.m. Who will be Barbara Walters' most fascinating person of 2008? (ABC)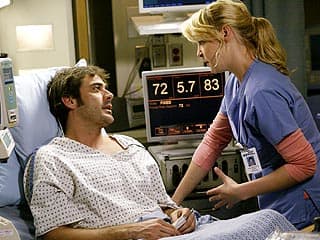 Just die already, Denny! That's right... you already did.
Avoid at all costs: Grey's Anatomy (ABC at 9 p.m.). We know. We recommended it above for the Sloan one-liners, but we want readers to avoid it now because IT FEATURES A GHOST AS A CENTRAL CHARACTER!
Matt Richenthal is the Editor in Chief of TV Fanatic. Follow him on Twitter and on Google+.