Recently the cast of How I Met Your Mother attended a fan event at the TV Academy in North Hollywood.  In a scene straight out of 30 Rock, Neil Patrick Harris went to the bathroom and left his mic on.  We have the full story thanks to E! Online.
Hilarious co-star Jason Segel had them crank up the volume on NPH's microphone, and Harris even went on to give himself a Jack Donaghy pep talk.  Fans were treated to hearing Barney tell himself to "wake up!" before a publicist bolted in the bathroom to warn him.   Too bad neither Alyson Hannigan nor Cobie Smulders flashed the crowd to help out Neil.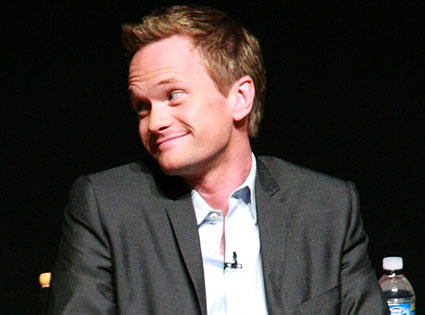 In addition to some funny antics, the cast also revealed some How I Met Your Mother spoilers about some upcoming episodes.  For stars, executive producer Carter Bays talks about how they've been able to hide both Alyson Hannigan's and Cobie Smulders' baby bumps since they're not writing it into the show.  They've been hiding the girls behind the bar, having Alyson hold the world's largest bowl of chips, and in Monday's episode, they'll show Alyson's baby bump and have Lily in a hot-dog-eating competition.
Oh and for any fans that noticed that the same picture that appears behind future Ted's kids also appeared in Stella's house would be delighted to know that Carter Bays said, "We put it there because Stella is the mom."  Hah!  Then production manager Steve Olson quickly popped in to say "It was just a coincidence."  As far as her being the mother, who really knows, but when asked if Sarah Chalke would come back to reprise the role, Bays said, "I hope so."
More HIMYM spoilers after the jump!
Josh Radnor also discussed Laura Prepon's guest role as Ted's ex-girlfriend this season.  Radnor said she most likely is not the mother and says, "You know Ted was a bit pretentious in college? Well, [Karen] was the one who kind of taught him the ways of pretension. She was five times more pretentious than he was."  Apparently she hasn't changed much.
We also know that Frances Conroy will be appearing as Barney's mother and that he'll be hiring a fake wife to impress her mother.  However, what we just learned is that things aren't that simple because as Neil says, "he bangs the mom of a kid he wants to hire."
Eric Hochberger is the programmer of TV Fanatic, so please forgive his mediocre writing. His programming is far better. Follow him on Twitter and/or email him. Just don't request threaded comments. They're coming.