Her name is Carly and she's an alcoholic.
This fact will soon be driven home on As the World Turns when the character goes back to the bottle.
"She's only pretending to go to her AA meetings," Mick Hazen, who plays son Parker, told TV Guide Magazine. "When Parker catches her drinking, Carly offers him a deal. She says, 'If you don't tell anyone about my drinking, I won't give you a hard time for dropping out of school and being a screw-up.'"
As Hazen adds, though, Mick isn't old enough to comprehend addiction. He doesn't realize how much of a problem his mother has... until disaster strikes.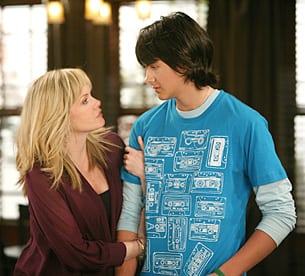 On an upcoming episode, Carly gets shloshed and nearly runs over her lover, Craig.
"Parker's hit with a ton of guilt," Hazen said. "Eventually, he's going to realize he's been enabling his mom and that he's only made things worse—and then he'll really beat himself up. It's a horrible position for a kid to be in."
Matt Richenthal is the Editor in Chief of TV Fanatic. Follow him on Twitter and on Google+.