Adam Lambert, Kris Allen and their fellow season eight finalists are ready to hit the road. 
The final two contestants on last season's American Idol were on hand at a press day in Los Angeles this week to talk about the Idols Live Tour. In separate interviews with People, each dished on his future in the business:
LAMBERT ON...
... his upcoming album: I am so excited! I think it's going to come out in November. We haven't found a title yet. And I'm working with RedOne — he's an incredible producer who did Lady Gaga's hit material. I'm working with Linda Perry, with Greg Wells, with Ryan Tedder, Sam Sparrow — amazing writers and producers. And I'm getting to co-write. I wrote a song with Kara Dioguardi from the show. It's awesome.
... coming out as a homosexual: The response that I've felt is mostly positive support, so I think that's great. It's a testament to us really trying to become a bit more progressive and focus on what really matters which is that I'm an entertainer and a singer and that's what it really needs to be about. My private life really has nothing to do with my ability to entertain.
... the tour: I'm looking forward to banking that paycheck. I'm not going to lie, I mean, that's not my first priority, but, you know, I think for all of us, having gone through experience, to be able to walk away with some financial security in these tough times is really nice.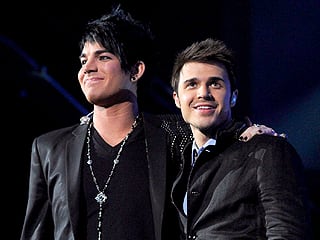 ALLEN ON...
... recording new CD: It feels great! It feels great to know that you've wanted to do this thing your whole life and to know that you have an album coming out in the fall that you've worked hard on that is you.
... album specifies: None of that stuff I know yet. I don't know if we're going to have any collaborations and I have no idea how many tracks, but I think the CD is going to be great, I really do. A lot of good songs.
... tour accessories: If I got my iPod and my phone, I am perfect because you can talk to people and then you can listen to great music, which I like to do.
Matt Richenthal is the Editor in Chief of TV Fanatic. Follow him on Twitter and on Google+.