Meet the Cast of "I'm a Celebrity, Get Me Out of Here!"
Matt Richenthal at .
Get ready for the American version of I'm a Celebrity... Get Me out of Here!
The popular British reality show, in which celebrities (and we use the term loosely, trust us) live in jungle conditions with few comforts and have to earn human essentials, premieres tonight on NBC. For two hours. Amazing.
ABC aired one season of the series back in February-March 2003, but that didn't take. It's back tonight, hosted by Myleene Klass and Damien Fahey.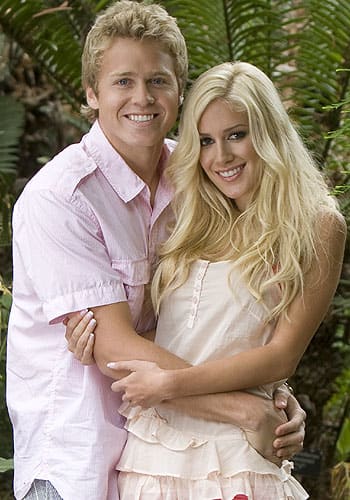 Among those starring this season will be:
One-time WWE diva Torrie Wilson.
The Hills' Spencer Pratt and Heidi Montag (above).
Supermodel Janice Dickinson of the Mesozoic Era.
Stephen Baldwin, born again Christian and brother of Alec, Stephen, William and maybe countless other Baldwins we've never heard of.
Former American Idol star Sanjaya Malakar, who sucked royally but made it pretty far and got a lot of votes because it was kinda funny.
Patti Blagojevich, wife of disgraced former Illinois Governor Rod Blagojevich. Good to see NBC rewarding political corruption by paying this waste of space money to pay her husband's legal bills, but hey, it's TV.
All these crazies and more await us on the new show. Click to enlarge photos of the cast of I'm a Celebrity... Get Me out of Here ...
Matt Richenthal is the Editor in Chief of TV Fanatic. Follow him on Twitter and on Google+.