It's no surprise, but it's still exciting and worth passing along:
True Blood has been confirmed for a third season.
At the show's Comic-Con panel last week, executive producer Alan Ball told fans of the wildly popular HBO series that the show will be back for at least one more season (and likely many more, considering author Charlaine Harris has agreed to pen three more novels in her book franchise).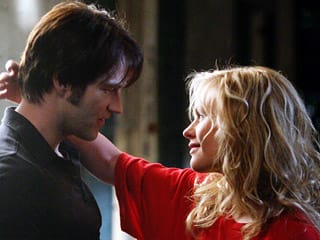 From there, as reported by Entertainment Weekly, stars Anna Paquin, Stephen Moyer and Alexander Skarsgard chimed in. They said their characters' love triangle will grow more intense in the second half of the current season, as Moyer added Bill will be "fighting harder" for Sookie's affection.
As for major theme for the second half of the season, the producer initially answered with one word: war.
Ball also said he's excited to add werewolves and Mississippi vampires from Harris' books into various storylines next season.
Asked about Bubba, a fan favorite from the books, Ball said there are no plans to include him. Yet.
Matt Richenthal is the Editor in Chief of TV Fanatic. Follow him on Twitter and on Google+.