Friday Night Lights does not shooting until September, but the rumors, news (see Monday's note on some new recruits) and gossip surrounding the new season is heating up.
Here's what Aimee Teegarden (Julie Taylor) told E! about her vision for season four:
"I really hope there's a dance this season, because we've never actually had a real prom! I want a corsage. I want a dress. I want the family pictures. The whole shebang."
Who would be Julie's date? "Matt Saracen could take me." Obviously.
"They could still go to prom together, right? I would have to ask him though," Teegarden mused. "At least I think that's how it works when your date is not in high school."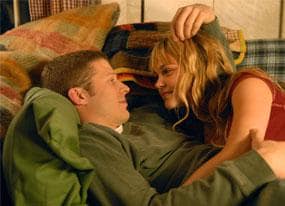 As for whether Aimee Teegarden and other cast members have creative input, the star said, "Sometimes I talk to [executive producer] Jason Katims, and say, 'Julie needs to do this.'"
"Then the next thing you know it'll be written in. It's really funny."
Hopefully that means Matt and Julie break it down on the dance floor when Friday Night Lights returns to DirecTV in October. NBC will re-air the season in early 2010.
Steve Marsi is the Managing Editor of TV Fanatic. Follow him on Google+ or email him here.