The trailer for volume five of Heroes reveals a lot: Claire is in college; Ando is kissing Hiro's sister; Hiro is hanging with his younger self.
But the promo didn't get into the heart of what looks to be a major season four storyline: the unusual triangle that will connect Sylar, Nathan and Parkman.
"The whole premise of Zachary [Quinto], myself and Greg [Grunberg] having an interesting triangle of behavior," Adrian Pasdar told E! News. "In the process of Matt crushing Sylar and having my body become his, Sylar entered Matt, so there's a soul that's missing in me. It's my own Nathan behavior that's manifesting itself through Sylar. There's a triangle that makes itself clear by the third episode."
Let's hope it makes itself more clear than that confusing synopsis!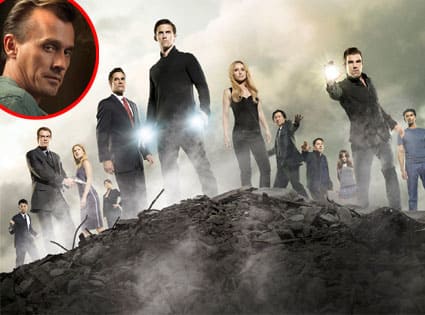 As for other upcoming developments, let's examine what various cast members have to say about their characters...
A New Friend for Claire: Madeleine Zima has joined the cast as Claire's college roommate. Hayden Panettiere decribes their relationship as "interesting" and adds: "She hasn't really had a relationship with someone that close since first season with her friend Zach. So it's a relationship I think that people are going to love and love to see us together."
What About the Carnival? Yes, there's another group of people with special abilities, one that Panetierre explains is the "opposite of what the Company was."
Does this mean they're good or evil? Watch and learn, teases Greg Grunberg.
"Just when you think it's safe, it's not. Just when you think it's evil, it turns out that we need them more than they need us."
A Dead Hiro: James Kyson Lee reveals a rather huge development for his character and Hiro. He says:
"Hiro has a bucket list because he's dying. Ando is trying to change that, but we'll see. There's a whole theme of 'Can you really mess with fate?' in our show. Sometimes you can change history, sometimes you can't.""
Wow. That's a lot to tell viewers. Are you glad the show lets so many secrets out of the bag so early? Chime in now in our Heroes forum!
Matt Richenthal is the Editor in Chief of TV Fanatic. Follow him on Twitter and on Google+.