Tonight marks the finale of an extraordinarily successful first season of Royal Pains.
The USA hit has already been renewed for a second season, likely to air in the summer of 2010. What's on tap for it?
"I'm calling it 'the endless summer,'" executive producer Michael Rauch told TV Guide of his plan for the season two to commence immediately following the events of tonight's episode.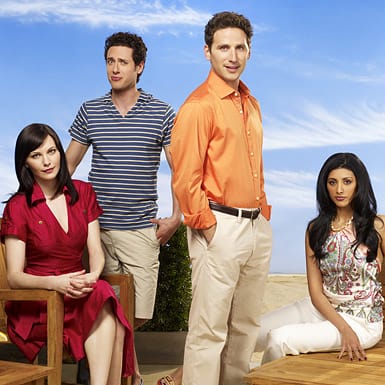 According to star Mark Feuerstein, a long break in the action would raise inquiries the series might not even want to answer.
"There are so many elements that are time-sensitive," he said. "What would Boris' health situation be nine months later? Where would Jill or Evan be nine months later?"
As for Reshma Shetty, she has plans of her own for Divya.
"The focus of this season is to get HankMed going, make money and hide the secret from her parents," she said. "Until all that is sorted out, how can she just be herself? Hopefully, that'll all happen and she'll have an affair with a billionaire who lives off the coast of the Seychelles."
Matt Richenthal is the Editor in Chief of TV Fanatic. Follow him on Twitter and on Google+.