As loyal fans of The Ghost Whisperer know, the show will jump ahead five years when its fifth season premieres tonight.
It's a season that was never in doubt, producer P.K. Simonds told Entertainment Weekly, due to the creative risk the show took to conclude the series in May, as Melinda discovered she was pregnant with a magical child.
"We were in a much stronger position, and that had everything to do with the risk that we took and the new life that we injected into the show," Simonds said.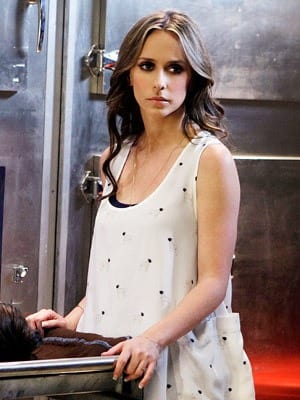 On this week's episode, little Aiden is a toddler, at the age where he can actually be "the key" watcher Carl predicted he'd be in the aforementioned finale; also Jim is now practicing at a hospital that will become "the centerpiece of our storytelling and the new interesting dark places we intend to go," Simonds said.
What else did he have to say about the episodes ahead? Let's take a look:
What is Aiden's gift? "This child can see and sense things that Melinda can't, and some of those things that he sees are things that don't want to be seen and that no one in our world has seen yet. They're threatened, and when things are threatened, sometimes they take action."
What happens after you die? "Melinda is able to see and communicate with spirits who are on that specific plane of existence that is beyond life... we've never said what happens when they leave that plane and cross over or under. What we're basically saying is that it's a little more complicated than it appears, and there's beauty but there's also darkness.
"If there's someone or something that lives on that next plane, what relationship do they have to the rest of us? Are they friendly or are they not? The answer is both. When they're not friendly, how much jeopardy do they pose to our characters? The answer is a lot."
We'll see more Jim. "He will have a new and deeper involvement in what Melinda does. The hospital is where a lot of the action takes place. The thing about hospitals is, a lot of people die there. Hospitals are especially haunted places. Hospitals have morgues, and this one is no exception. This is a very interesting morgue with a lot of its own mojo."
What about Delia, Ned and Eli? "Delia has gotten her real estate business back on its feet, partnered with somebody, and opened her office which is next to Melinda's store. She's dating, not one but several guys.
"Ned is now at Rockland University, and largely the result of growing up around Melinda, he majors in anthropology of the occult and is able to provide some occasional research into the phenomena she's up against. We finally get to meet Eli's parents under circumstances that only our characters could."
Matt Richenthal is the Editor in Chief of TV Fanatic. Follow him on Twitter and on Google+.