Heroes: Desperate for Ratings, Aiming for Record High Shark-Jumping
Matt Richenthal at .
Heroes is coming off its series low in ratings.
The NBC drama must, therefore, be happy that its most desperate cry for attention will air next week, as the following photo confirms the dreadful rumor that's been making its way around the Internet for months:
Claire will, indeed, give the same sex a shot, as she makes out with roommate Gretchen on next week's episode. Sigh, shake your head and see for yourself: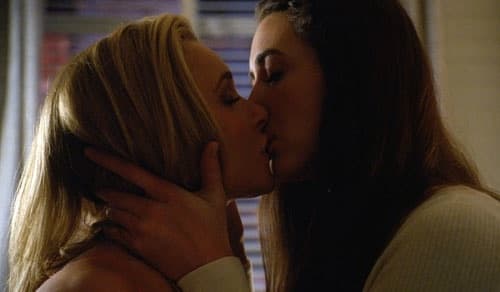 Claire and Gretchen, sitting in a dormitory, K-I-S-S-I-N-G? Speak with other fans in our Heroes forum about this astounding development.
Trust is, the actual scene is brief and Claire doesn't reciprocate the kiss. But is there ANY doubt that this was all planted awhile ago just to scare up buzz for a struggling series?
It's sad, but true.
Matt Richenthal is the Editor in Chief of TV Fanatic. Follow him on Twitter and on Google+.