Prior to season four of Heroes, Masi Oka said his character of Hiro would never time travel again.
This statement has been met with derision by critics and forum posters, as time travel is the main focus of Hiro's storyline so far - but it sounds like that may pay off on tonight's episode.
Titled "Once Upon a Time in Texas," the hour focuses on Hiro's journey to the past, as he tries to save Charlie from being murdered by Sylar.
In an interview with TV Guide, Oka promised many surprises for long-time fans (look for Isaac Mendez!), as well as a showdown between major characters.
"This is a big homage to the episode where we see Charlie's head get cut off," Oka said. "This is kind of the side story of what could have happened behind the scenes. It's more than just saving her from Sylar because she was destined to die. Now he knows what the problem is, so maybe he can find someone to help out with that."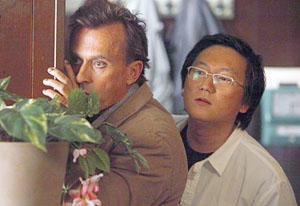 Without revealing too much about the episode, Oka confirmed that Samuel would play a key role.
"He definitely has a bigger scheme. We find out why he's there by the end of the episode, but Hiro is just dancing on the palm of his hand in some senses. Samuel also has a past that needs some fixing, and the only person who could probably help him is Hiro. So we'll see how everyone's destiny mixes around with the paths that have been taken."
As for the show's destiny, fans are still reacting to the news that this is likely Heroes' final season. Will you miss it?
Matt Richenthal is the Editor in Chief of TV Fanatic. Follow him on Twitter and on Google+.