"There's going to be some big shake-ups in the second half of the season between the characters."
With that, How I Met Your Mother co-creator Carter Bays opened an interview with The Los Angeles Times in which he delved deeply into the immediate future of this sitcom. Must-read excerpts from it are below...
On the end of Barney and Robin: This is always sort of what we planned on. We thought there would be a lot of buildup, but in the end, Barney and Robin aren't necessarily programed for a long-term relationship, especially Barney. But this is also part of a bigger story we wanted to tell, and this is kind of the first step in it.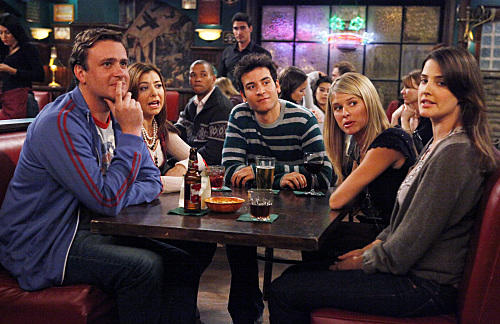 On their future interaction: That's part of the story that we're building towards. It's definitely not everything's back to normal, everyone's fine. We're going to find out in coming episodes that everyone's not fine. I think when the dust settles, and the dust is still settling between them, there'll be some big changes in their relationship.
On guest star Benjamin Koldyke: He'll sort of be a new development in the story of Robin's romantic and work life... it's definitely a slow play kind of thing. He's not the most likable fellow right off the bat. It's going to take a while for his walls to come down a little bit and for them to really connect.
On Rachel Bilson's character: Right now it's just one episode. But it's an important character, so we'll probably want to get her back eventually. She's a crucial step forward in Ted's life.
On the show's 100th episode: Barney has an infatuation with the new bartender at MacLaren's, played by Stacy Keibler. Marshall and Lily have a little marriage story line about them as a couple. Everyone's got some stuff.
Matt Richenthal is the Editor in Chief of TV Fanatic. Follow him on Twitter and on Google+.