We apologize for not labeling this post with a Friday Night Lights spoiler warning - but even those waiting to watch season four on NBC next year most likely read many weeks ago that Zach Gilford was only booked for a few episodes.
The actor - who plays Matt Saracen and who gave the performance of a lifetime on the episode "The Son" - left the series this week.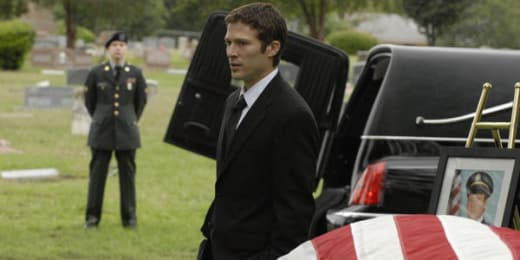 He then spoke to The Los Angeles Times about his experience on the incredible drama. Excerpts are below...
On knowing Saracen well: After four years of doing the same character, you kind of know what you're doing. That's not saying you're a great actor or anything, but you know when you're doing something stupid, or doing something real. But I think we all have confidence we can go into any scene and make it real and not do anything where people will be like, "Really?"
On respect for Saracen: He's always been the guy who put everyone ahead of himself, and this season he did it again. That's why he was still in Dillon. His arc this year is figuring out that it's time for him to put himself ahead of everyone else, and realize that it's not going to be the end of the world if he does that.
On the future of Saracen: He heads up to Chicago, and he's figuring stuff out, I guess you can say. It's all a little vague. But [Jesse Plemons, Ladnry] and I are waiting to see what happens to his character. If he leaves, him and I are going to try and make a spinoff.
Matt Richenthal is the Editor in Chief of TV Fanatic. Follow him on Twitter and on Google+.