Major Brothers & Sisters Spoiler: Rob Lowe to Leave Cast After This Season, May Headline New Series
Steve Marsi at .
In a surprise development for Brothers And Sisters, Rob Lowe has reportedly worked out an amicable exit strategy with Steve McPherson, ABC Entertainment President.
Lowe was brought in as Sen. Robert McAllister when the series stumbled out of the gate, and ratings soon climbed, leading to Lowe's signing a deal as a series regular.
Insiders say that in the drama's four seasons, at least four different show runners have gone and gone, and Rob Lowe has felt under-utilized in the family story lines.
As a result, he'll be leaving the Brothers & Sisters cast - a bit of a dubious move, considering the large ensemble he knew he was becoming a part of - at season's end.
McPherson confirmed the exit, with an interesting twist: A new Rob Lowe-centric series.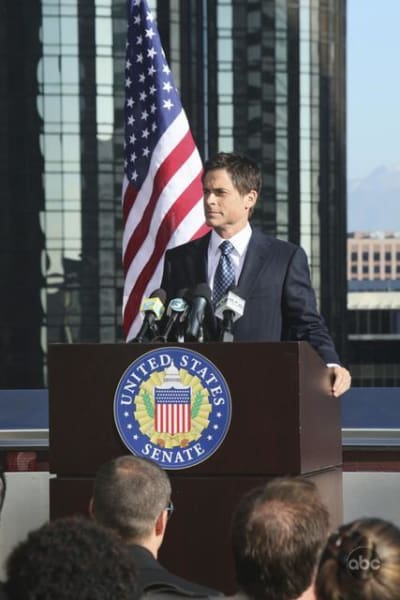 Robert is leaving the U.S. Senate. Rob is leaving the show.
"We would absolutely like to keep Rob at ABC; we feel he should be anchoring his own franchise," McPherson said, noting that the two parties are currently "in talks now."
Many fans may know that Lowe previously exited The West Wing in the middle of its series run to start a new series, The Lyon's Den, which was axed in its first season.
It is unclear what the Lowe-led show would be about. However unlikely it may be, we'd love to see a Robert and Kitty political spinoff series. The McAllisters go to D.C.!
That's just us speculating (and likely dreaming) however. How do you think Robert will be written off the show - and are you happy with the surprise move?
Steve Marsi is the Managing Editor of TV Fanatic. Follow him on Google+ or email him here.