While her baby's daddy and former fiance is being considered for a role on Desperate Housewives, Bristol Palin is coming to ABC Family.
The real-life teenager mother will be forced into the spotlight again by her attention-starved mother make a cameo as herself on a summer episode of The Secret Life of the American Teenager.
Bristol will appear as one of Amy's friends at a music program for young parents.
"I am thrilled to be on this show and to be a part of a program that educates teens and young adults about the consequences of teen pregnancy," Bristol said.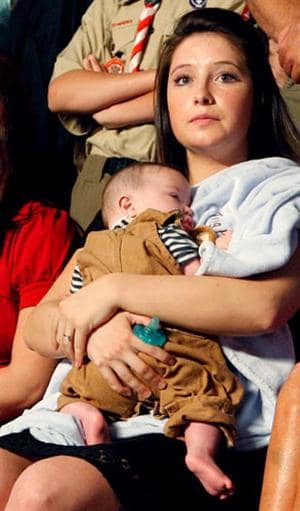 The casting announcement comes a week after Sarah Palin made national headlines by manufacturing outrage at Family Guy creator Seth MacFarlane and his show's depiction of a high school student with Down Syndrome.
We'll let readers decide whether or not placing her daughter on a TV show is hypocritical, considering the former VP candidate and MacFarlane have the same goal: use the Palin name to garner ratings.
Matt Richenthal is the Editor in Chief of TV Fanatic. Follow him on Twitter and on Google+.