Earlier this week, we learned that Daniel Cosgrove has been dropped from a guest starring role on Brothers & Sisters' upcoming flashback episode due to scheduling conflicts.
Stepping into young William Walker's shoes? Melrose Place exile Colin Egglesfield.
Now, we can report that Brianne Davis is playing young Holly, William's longtime mistress. Davis recently appeared in an episode of B&S' lead-in, Desperate Housewives.
That's not all. Here are some plot details from the April 11 flashback episode ...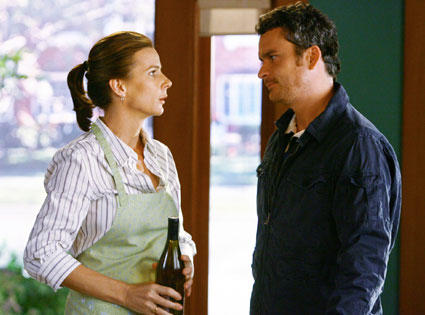 Hour one of the two hour special is shooting now and wraps on Monday, February 22. It takes place back in 1986 (interspersed with the present day).
The Walker kids - Sarah, Tommy, Kitty and Kevin - are mostly teenagers or close to it, but Justin, the youngest, is only four years old at the time.
Hour two starts shooting on Tuesday, February 23, but the script has yet to be finished! It takes place in 1973 (again mixed with present scenes).
Egglesfield and Davis, as young William and Holly, respectively, only appear in the second hour, although the affair probably lasted until 1986 too.
Are you psyched for the two-hour episode? What are you most looking forward to seeing and what could you do without? What will the present circumstances be?
Steve Marsi is the Managing Editor of TV Fanatic. Follow him on Google+ or email him here.