Former Alaska Governor / GOP V.P. candidate and current professional celebrity Sarah Palin could be coming to the Discovery Channel soon, and at a staggering price tag.
The cable network is close to acquiring Palin's reality series, Sarah Palin's Alaska, and is expected to announce a deal in the upcoming days, The Hollywood Reporter says.
The travel series, which will be produced by Mark Burnett, would feature Alaska's ex-governor giving guided tours of the state she used to run. Sarah Palin started shopping around the show earlier this month. Major networks passed, but Discovery and A&E each showed interest.
Palin is asking $1.2 million per episode, making it one of the most expensive nature series ever. It is unclear if it would air on the Discovery or sister network, TLC.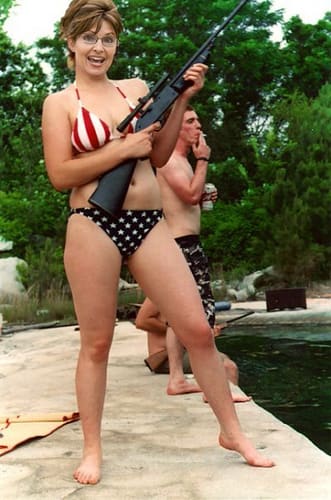 SARAH PALIN'S ALASKA: This is kind of what we envision her new reality show will look like. Yes, we realize the image shown above is old, and totally doctored, but come on, it's hilarious.
Steve Marsi is the Managing Editor of TV Fanatic. Follow him on Google+ or email him here.