Heroes is (thankfully) out. Parks and Recreation is (stupidly) delayed until mid-season.
As we head into Upfronts week, where TV networks will reveal their fall schedules and preview new shows, NBC is the first to unveil its new, 2010-2011 lineup. Get an early jump on DVR programming below...
MONDAY
8 p.m. Chuck
9 p.m. The Event
10 .p.m. Chase
WHAT'S NEW? The Event stars Jason Ritter as a regular guy who discovers a massive U.S. government conspiracy; Chase follows a team of U.S. marshals.
TUESDAY
8-10 p.m.: The Biggest Loser
10-11 p.m.: Parenthood (pictured)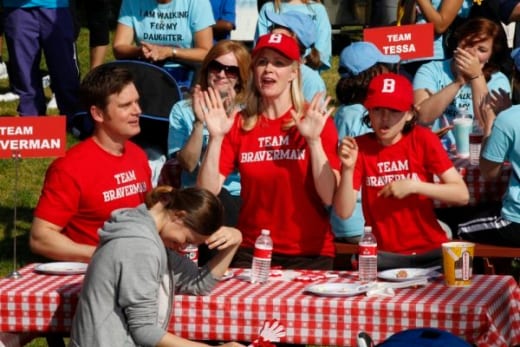 WEDNESDAY
8 p.m. Undercovers
9 p.m. Law & Order: Special Victims Unit
10 p.m. Law & Order: Los Angeles
WHAT'S NEW? Undercovers is a Mr. & Mrs. Smith-type drama that follows around a married couple of spies, produced by J.J. Abrama. Law & Order: Los Angeles is Law & Order... in Los Angeles.
THURSDAY
8 p.m. Community
8:30 p.m. 30 Rock
9 p.m. The Office
9:30 p.m. Outsourced
10 p.m. Love Bites
WHAT'S NEW? Outsourced focuses on the middle manager of a novelty toy manufacturer who is relocated to the company's call center in India; Love Bites comes from Sex and the City writier Cindy Chupack and centers on a trio of relationships.
FRIDAY
8 p.m. Who Do You Think You Are?
9 p.m. Dateline NBC
10 p.m. Outlaw
WHAT'S NEW? Outlaw stars Jimmy Smits as a Supreme Court justice who leaves the bench to start up his own law firm.
SUNDAY
8:15 p.m. Football Night in America
8:15-11:30 p.m. NBC Sunday Night Football
Matt Richenthal is the Editor in Chief of TV Fanatic. Follow him on Twitter and on Google+.