Off The Map is not simply Grey's Anatomy in a jungle. Or so we're told, even though it so is. Just the same, the extreme environs do necessitate some original storytelling.
The drama created by Jenna Bans and produced by Shonda Rhimes and Betsy Beers is all-new tonight (see sneak previews). What can we expect this week and beyond?
The trio sat down with TV Line to discuss just that. Some excerpts: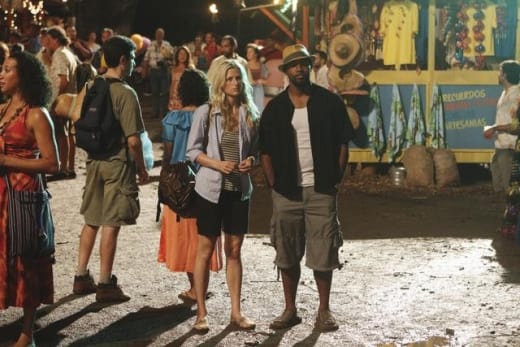 Bans, on creating a medical drama in a unique setting: "We have to take this medical case that maybe you've seen on TV before but do it in a completely different way. The idea that we cannot do something they've done on Grey's Anatomy is what keeps us going."
On a future case of inventive medicine: "A scuba diver is trapped under a rock, and because of other medical issues she has they realize they have to cut her leg off to save her life. So Ben and Ryan scuba-dive down to use this old 1952-type hacksaw."
Rhimes, on tips from Lost creator Damon Lindelof on Hawaiian filming: "Expect a lot of Spam ... Filming a mudslide is not the same as a walk-and-talk in a hallway."
Bans, on the best cast chemistry
: "Valerie Cruz and Jason George ... we had ideas about their off/on relationship, but once we saw them on, we didn't want to go off for too long. The other two are Zach [Gilford, Tommy] and Mamie [Gummer, Mina]."
On Ben seeking out these doctors, these "damaged" individuals, à la Jacob on Lost: "We get into that a little more toward the end of the season. My personal theory is that the people who most need to fix their lives can most help others."
Beers, on forging a new identity: "From the moment we pitched the show, it clearly had its own identity. [ABC] is excited with the idea of a whole other franchise."
Steve Marsi is the Managing Editor of TV Fanatic. Follow him on Google+ or email him here.