This is timely.
On the heels of ABC announcing plans for a Charlie's Angels remake this fall, Chuck producer Chris Fedak says his show is about to "pay homage" to this classic series.
On February 14, look for Mini Anden to reprise her role as Sarah's former spy pal, Carina Miller. She won't arrive on the scene alone, either, as Fedak tells Michael Ausiello viewers can expect "a wild bunch" when Mercedes Masöhn and Mircea Monroe also guest star and form "The Cat Squad."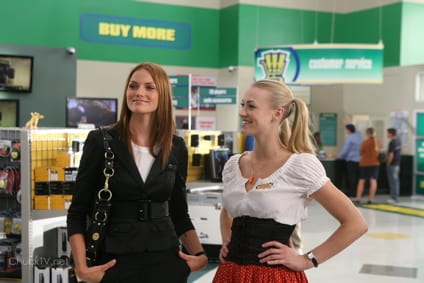 Elsewhere: Isaiah Mustafa and Stacy Keibler will return later this season as Greta, as Fedak promises the series "will explain what the whole Greta thing is about."
Thank goodness.