Change will most definitely abound on Chuck next season.
The series will move to Fridays for its final season, as viewers adjust to a world where Chuck is a billionaire; where he runs his own spy agency; and where Morgan is in possession of the Intersect. All of this and more was revealed on this week's season finale.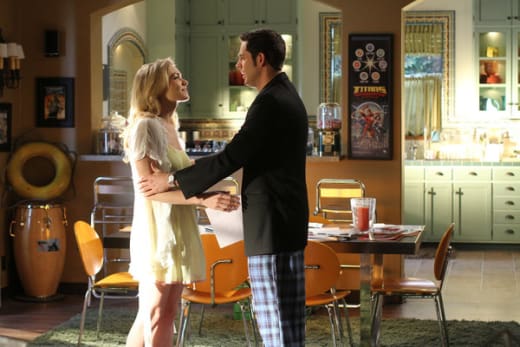 Producer Chris Fedak called up TV Line after the episode aired and gave fans a glimpse into what's ahead on his show's concluding 13 installments this fall...
The future of Buy More: The show wouldn't be the show without the Buy More. And Chuck has realized that he has the perfect cover with the Buy More, so that will still be a part of the show. It'll be a part of their cover operation, even though they'll have a private spy agency. And also Chuck now owns the Buy More, so he's not simply running a spy agency, he also owns and operates the Buy More. And we're going to have some fun with that.
Will there be less spy mythology?
We've always had two sides to the mythology on our show: We have the emotional mythology of our characters' backstories, and we also have the spy mythology. And both of those things will be part of the new season. I think that's what is great about Season 5, the ability to get into the character mythology. Some of my favorite episodes are the ones with Sarah's backstory, Morgan's backstory, and Casey's backstory. We'll have a spy mythology as well, but we'll probably get into it a little differently.
Will Morgan do more physically than he has in the past? That's absolutely true.
Matt Richenthal is the Editor in Chief of TV Fanatic. Follow him on Twitter and on Google+.