Go ahead and rejoice, Team Eric members, season four of True Blood will likely be the one you've been waiting for.
Due to his run-in with witches, Alexander Skarsgard's vampire will face some serious problems in the weeks ahead. But they may lead him into the arms of Sookie.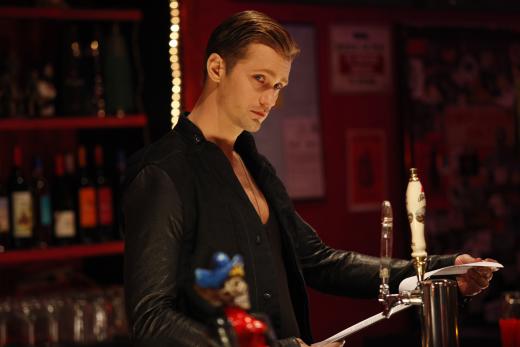 "The old Eric is gone," Skarsgard said at the show's premiere party this week. "He's very innocent and naïve, and then he finds out who he is and what he's done in the past - Eric has done some pretty bad things in the past - and it's tough for him to digest that and to deal with that."
How will such a vulnerable side affect his interactions with a certain faerie?
"She sees Eric in a whole new way," Anna Paquin says. "Sometimes it takes a slight shift in perspective for people to see what's right in front of them."
In the fourth Charlaine Harris novel, on which this season is based, Eric and Sookie do finally sleep together. So, with Sookie still mad at Bill over his deception, will the series follow through on that this summer?
"If you know the books and you like the fourth book in the series, you won't be disappointed," creator Alan Ball hints. "[In that book], they have a pretty hot hookup that goes on for a while, but all I'm saying is fans of Team Eric will be very happy this year."
Who do you wanna see Sookie with?
Matt Richenthal is the Editor in Chief of TV Fanatic. Follow him on Twitter and on Google+.