One thing is for sure: Bruce Campbell is not quite as inconspicuous as Sam Axe needs to be to work a Burn Notice case. Hawaiian shirts are one thing, but fushia and teal? Not a chance.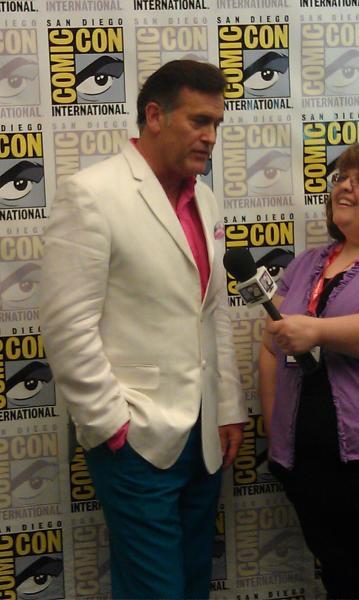 That was the outfit in which the star was dressed when I sat with him and Matt Nix at the Burn Notice Comic-Con round table this weekend, an event meant to promote The Fall of Sam Axe on DVD.
What's on the DVD that you haven't already seen in the movie? Let's ask Bruce:
"There's a very good making of on the DVD. A non making of. I've never seen a making of like this. It's special because you've never seen it, and if I tell you what's on it, it won't be special any more."
Nix, who arrived bleeding at the table, said current viewers of Burn Notice should pay close attention to the prequel: "There are things we could plant in this movie that will show up throughout the season."
In Matt's opinion, "it was about Sam learning to be Sam. Going from a guy who was just doing a job to being a guy who would put his ass on the line for his friends. Over the course of the movie, he realizes 'that's what I'm all about and that's how I'm going to live my life.'"
Visit TV Fanatic each week to read our Burn Notice reviews and discover these connections for yourself!
Carissa Pavlica is the managing editor and a staff writer for TV Fanatic. Follow her on Twitter.