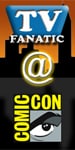 It was an emotional scene in Ballroom 20 today, as the cast and crew of Chuck congregated on stage in front of thousands of adoring fans.
Star Zachary Levi actually got choked up while thanking them for their support ("You guys are so epic, so awesome..."), while the panel itself revealed a number of fun final season tidbits. Among them:
Mark Hamill will guest star on the season premiere! It airs on October 21 and the Stars Wars alum will portray a villain on the series. Hamill will also be seen on the big screen in 2012's Sushi Girl.
Chuck will definitely wants the Intersect powers back when we see him again, "but this season is back-to-basics for Chuck," said executive producer Chris Fedak. "Chuck has to be far greater now. It's very much about him coming up with those clever, smart solutions again, and having to be a real spy."
Morgan will seriously embrace his new skill set. Isn't that right, Joshua Gomez? "Morgan just wants to
hurt people and take revenge
. I couldn't be more excited about it." The character will have frosted tips by episode three.
Casey will have a love interest named Gertrude Verbanski.
Farewell, Jeffster? "This is the season where it all falls apart between Jeff and Lester," Fedak said. "It's going to be a great war and... very dramatic."
No exact word on how the series will bow out, but Fedak offered this tease: "Someone might not survive this season."
Matt Richenthal is the Editor in Chief of TV Fanatic. Follow him on Twitter and on Google+.