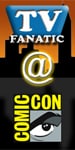 To wild screams and applause, Sarah Michelle Gellar stopped by Comic-Con today for only the second time in her career.
The actress, forever beloved by the crowd at this event for her role on Buffy the Vampire Slayer, didn't disappoint, either. Asked what separates this character from her most iconic role, Gellar replied:
"I got to shoot a gun. Buffy never got a gun."
Gellar was joined on stage by co-stars Nestor Carbonell, Ioan Gruffudd, and Kristofer Polaha, along with producers Nicole Snyder and Eric Charmelo will also be on hand.
But SMG drew the most laughs. On Ringer, she plays a set of twins, but said the scenes are different than her days as the Buffy bot: "Sometimes I'm playing of a double, somethings you see the double. Sometimes I'm making it up... and by season 3 they'll clone me."
Polaha, meanwhile, mentioned that he actually auditioned for Riley on
Buffy
. He read with Gellar, but the gig went to Marc Blucas.
Charmelo also offered this great tease, saying the show will "live and die by [the] twists and turns and secrets... One [of the twin sisters, Bridget and Siobhan] is driven by redemption; one is driven by revenge. You won't know who's the femme fatale and who's the mark. We love delving into the realm of moral ambiguity. There are things we allude to that cause a huge riff between sisters. It all plays into mythos of that and it's something we'll unravel over the season in flashbacks."
So, what separates Ringer from other shows on The CW?
"No vampires, no demons, nothing supernatural," Charmelo said, while SMG chimed in: "No hatch, No island!"
She cracks us up.
Matt Richenthal is the Editor in Chief of TV Fanatic. Follow him on Twitter and on Google+.