Marie Schrader stepped into the spotlight on Breaking Bad this week.
Wanting to be anyone except a woman married to a wounded, bitter, half-paralyzed man, the character returned to her stealing ways, taking on various identities and snagging tokens from open houses that didn't belong to her.
Did Betsy Brandt expect Marie to revisit this duplicitous side on season four of the AMC hit?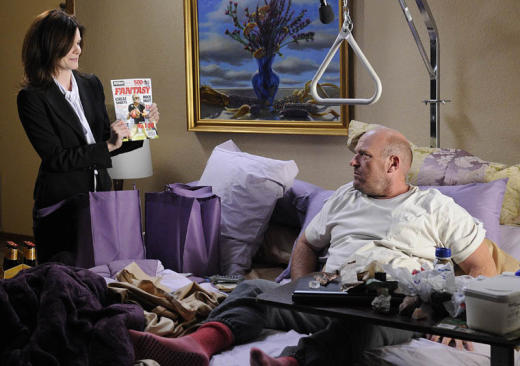 "Everything has a purpose on the show," the actress told me. "I always felt like we would get back to it. I just didn't know what road we'd go down."
That road ended, of course, with Marie in tears, but not before she fought back against the realtor who (accurately) accused her of thievery.
"She's indignant until the end," Brandt said. "I love that about her!"
She star also loves working with Dean Norris, who isn't as grumpy and insensitive as the crippled DEA Agent he portrays these days.
"It's tempting to say he's worse," Brandt joked. "But he's just an angel. He does great work every season... he's eager to get up and move around."
Will that happen at any point in the near future, now than Hank has his professional juices flowing again? Brandt wouldn't say. But she would offer the following tease to take us through season four:
"So much happens... for everybody. I feel like we're in the thick of the story and there's a whole different energy because of where we are."
Matt Richenthal is the Editor in Chief of TV Fanatic. Follow him on Twitter and on Google+.